07 Jul

The New Middle Eastern Food Trend: Turkish Cuisine

It's without question that the most popular foreign ethnic dishes in the US are Mexican and Chinese. This is because many Chinese and Mexican folks bless the American people with a blend of different delights imported from their respective fatherlands. 

But, because America is a country that boasts of a multiracial populace, it's easy to see why one ethnic delicacy can't stay favorite for long. 

Recently, middle eastern dishes are whetting the appetite of the American people.  And if you observe, food stores are springing up to cater to the nutritional and nourishing demands of a new group of food lovers. 
But, why are the Mid Eastern dishes becoming so popular? 
We promise to talk about that in a bit. But first, let's see how meals in the Mideast started and how they spread to Europe and the Americas.  
Origin of Middle Eastern Meals 
Turks, Iranians, Assyrians, Arabs, and Jews are the predominant folks in the Middle East. In Historic times, the Middle East was a trade route and a meeting point for merchants and travelers from  Africa's Northern region, parts of Asia, and Europe. 
Consequently, the Mideastern nations flourished from exposure to innovations from different merchants and spices from travelers of all nations. 
The combination of different spices birthed new dishes that opened up a new world of savory sensations that soon spread out to the ends of the earth.
Nowadays, Middle Eastern dishes still tingle and pleasure millions of palates in America and around the world. 
However, Turkish cuisines seem to be Americans' favorite, with meals like kebabs and falafels topping the most preferred list from the host of dishes. 
Why is Turkish Cuisine so Good?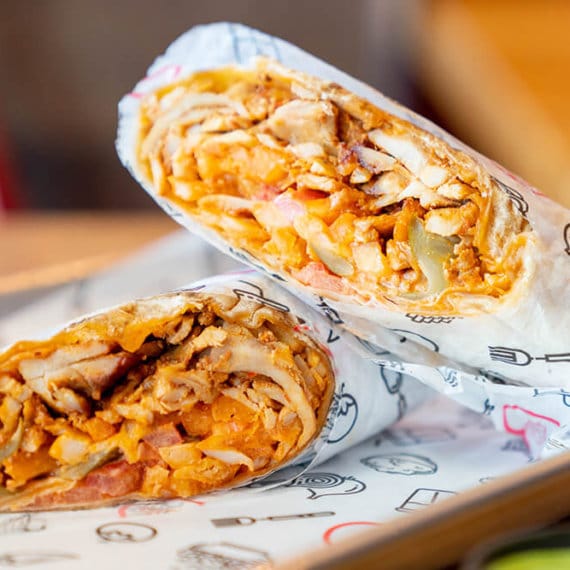 Now, back to the question: Why is Middle Eastern food popular? 
Our brief history of Middle Eastern cuisines should have answered your questions in part. Turkish meals taste so good because they're packed with a combination of distinct spices and recipes that have undergone sumptuous perfection over the years. The ingredients are comprised majorly of greens, grains, wheat, and meat. 
Where Can I  get Turkish Cuisines in the US?
Since the preparation of Turkish meals requires a delicate mixture of spices and other ingredients to make a delicious, tongue-biting meal, it's only ideal that you experience indigenous Turkish foods from restaurants with brilliant chefs.
And that's what Doner G offers. At Doner stores, we employ the best methods in preparing the freshest recipes with the most talented cooks so that every meal, every dessert is a tasty masterpiece. 
If you want to experience the best of Turkish dishes, visit any of our outlets near you. 
Can I Order Turkish Meals Online at Doner G?
Yes, you can order any of your favorite meals online. Doner G has a department devoted to quick food delivery to any location you choose. 
Scroll through our website and select an assortment of meals from our tantalizing menu. 
Does your appetite whet from the thoughts of relishing delicious Turkish cuisine? Why not hurry to the closest store next to you? 
And bring a friend or loved one when visiting so that you can both enjoy the tantalizing meals Doner G offers.